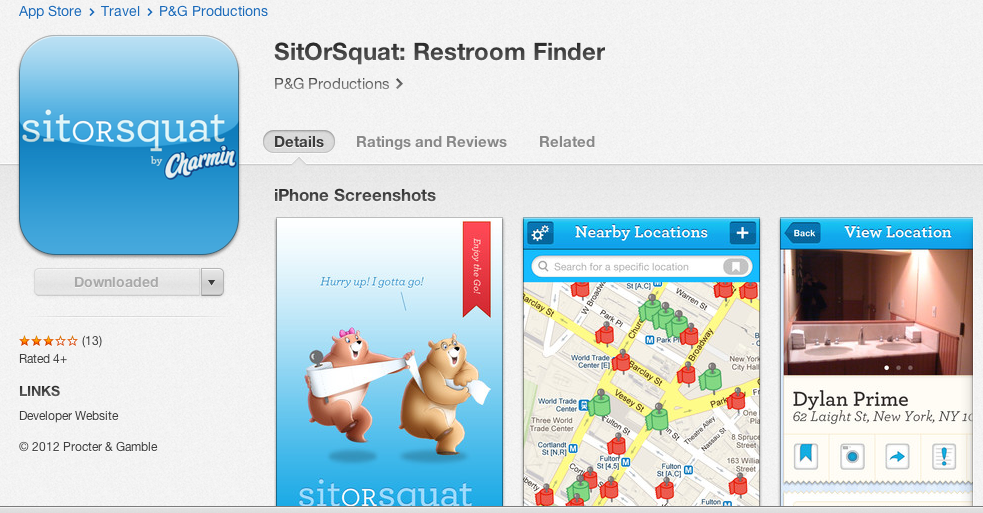 tip of the Day!  I have  taken quite a lot of heat since my column came out on Sunday for writing about the fact that there are no apps for bathrooms – or so I thought.  But the paper no sooner came out than I received this  email from Dr. Dan Davidson in Olympia, and this is what he said:  
Enjoyed your article in the Daily Olympian this morning and there is an app for your smart phone…you may know it already….I downloaded it for my mother in law for when she was on vacation with my wife and I…it is called Sit or Squat and tells you all public restrooms from your GPS on the phone.  It even rates them on cleanliness etc…  
Dr. Dan Davidson , Olympia
So naturally I had to download the app, and guess what – it really works.  You just put in  your location and you get a nice little map with bathroom locations.  The green ones are the "sit" bathrooms, the orange ones are "squat". You even get directions. Here's a short video:  
Sit or Squat
So if I put in Zip Code 98498 and got interesting results.  Leavitts Union 76 at 9202 Washington Blvd gets both a Sit and Squat rating – Squat meaning it's not clean enough to touch anything.  You curiously find yourself getting drawn into the exercise. There's something fascinating about the fact, for instance, than in the Tacoma area, there are
3265 bathrooms. 1520 sit, 1745 squat.  Well obviously, I don't know squat, but in my home town of DuPont, the Union 76 station did not get a "sit" rating, and neither did either one of the Starbucks.  There seems to be a very nice bathroom on HWY 50 in Clermont, FL.  You can also add your own choice, and if you don't have a smartphone, you can find Sit or Squat at SitOrSquat.com.
In case you missed the column in the News Tribune, here it is:  
smartphone
Can't you just hardly wait for the tip of the day tomorrow.  See you then.