True Tales of Puget Sound
From the shores of Gig Harbor to the slopes of Mount Rainier, the towns surrounding Puget Sound all have incredible stories to share. How did Old Fort Nisqually, now perched on a lofty bluff above Tacoma, move twenty-two miles from its original 1843 site in DuPont? Did Eatonville's copper-infused paint inspire the phrase "painting the town red"?
Read about the famed Pie Goddess of Enumclaw and about a cookbook compiled by Emma Smith DeVoe of Parkland that included helpful tips from suffragettes. Join author Dorothy Wilhelm, of the television show My Home Town, as she explores these beloved town tales and uncovers the rest of the story.
Buy From Amazon or Buy from Arcadia Publishing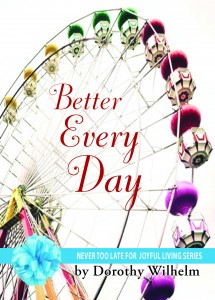 Better Every Day
Let's have some fun! This collection of newspaper columns offers a humorous look at what happens to us as we grow older and gradually realize that no single part of our body ends where it used to end or does what it used to do. There is no owners manual.
Add to Cart