My worst valentine came from a  fellow who clearly had forgotten the day, left me in his truck with the motor running, while he ran into the drugstore to purchase a valentine.  He brought it back and passed it through the truck window still in the brown bag.  On the bright side, since it wasn't written on, it could still be passed on. So could he.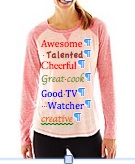 What's the Good Word? If you didn't get the valentine you wanted yesterday, cheer yourself up by giving yourself a few  good words. I had a friend once who made me a sweatshirt with all of the good words that she said were descriptive of me, written all over it.
The great words that describe you: "beautiful, handsome, resilient", well  you know yourself better than I do.  If you need directions, here's an extra hint or two.
If you don't want to go to that much trouble.  Write yourself encouraging messages in soap on the bathroom mirror.  Encouraging and will make  you grin when you see it.  Easy to clean up.
Always remember you can write "I Love You" or other friendly messages to yourself or others on the breakfast toast.  Just write on the bread with food coloring mixed with a little milk. There it will be when the toast is finished.  Again, fun for Grandkids.
Remember, look for good words and you're sure to have a happy day