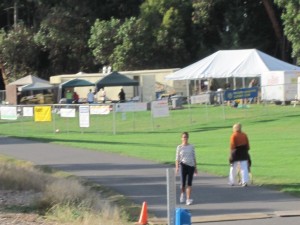 Quick note from Dorothy:
What's going right.  This section is dedicated to the good things that are going right every where we go. We have a tendency to miss the good things and focus on the bad ones.  Playground at Chambers Bay
For instance, hundreds of volunteers are working at Chambers Bay to build a special playground for the kids.  The land is donated. This is not costing the tax payers anything. As KOMO news wrote, Tuesday morning, hundreds of volunteers broke ground on an ambitious project to build a world-class playground… in just six days.
A nationally-acclaimed design firm is leading plenty of experienced builders, who are relying on lots of volunteers.
The project will be called Playground by thee Sound — Pierce County donated the land and residents raised $200,000 to make this happen.
The builder actually asked for input from little kids before designing the place:
"Because I like going to playgrounds," said 3-year-old Lyla Cowan.
The families who will use the swings, slides and monkey bars are astounded that it's an all-volunteer effort.
"It's really refreshing that so many people would help for no compensation, just for the goodness of the community I guess," said mother Kathryn Stevens.
One volunteer who spearheaded the drive to create a grand playground next to Chambers Bay Golf Course is former University Place mayor Linda Bird.
"I raised five children in this community when there was not one single playground," Bird said. "When we became a city 15 years ago, that was one of my goals to solve that problem."
And it looks like it will, with the help of as many as a thousand motivated volunteers, who look forward to bringing their little kids to the Playground by the Sound.
"I think they're going to come out here and enjoy it, and it's going to be — 'I helped build that,' " volunteer Mike Overby said.
Organizers think they can have the playground finished and open for children by 6 p.m. Sunday.
They still need volunteers, so if you or somebody you know would like to take part, go toPlaygroundByTheSound.org  Please share your Yippee Skippee moments.