I'm off this morning taking part in the Making Strides Against Cancer but I wanted to share a little bit of the backstory about my love/hate relationship with Facebook. Last night I received a note that there was something that I needed my approval.  A dropdown menu demanded to know what my relationship was with my Number Three son, but the menu offered only male possibilities.  I picked the best choice, and sent this note to my son.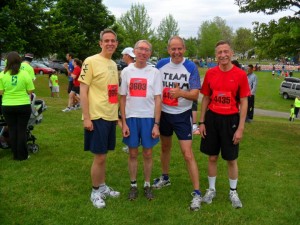 Dear Ross,
You will be startled to learn that I am now your Father.  Facebook sent me a message wanting to know our relationship – God knows why – and they didn't offer any female possibilities. I thought I was more like a father than a stepson. I shall practice deepening my voice.>>
Now that I think of it, I'm proud to be a Father. I've been a mother for fifty seven years, but this is something new.