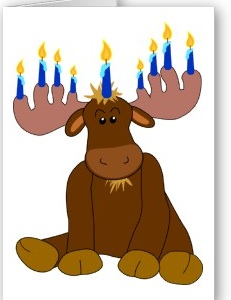 Blended families
Grandparents Can Help Blended Families Create A Good Mix During the Holidays  Part II     by Sunie Levin
When there are two different religious cultures involved in the holiday celebration this can be a minefield, but grandparents can, if they are of a mind to, help the kids see the good points of each faith and that the religions are not adversaries, but rather complementary. Clearly, it's important to learn what the parents feel and how they would prefer to deal with the holiday season. Perhaps they would prefer that gifts for one set of kids be wrapped in Christmas paper and Hanukkah wrappings for the other set.
So, specifically, what can you do as a grandparent? In addition to being caring and insightful, here are a few thought–small things, perhaps, but very useful to start building new traditions for the blended family:
1. Bake Christmas and Hanukkah cookies, decorating them colored sugars and candies
2. Begin a scrapbook for the new blended family with baby pictures of each child and keep it updated with added snapshots.
3. Each child shares a favorite recipe and provide copies for everyone
4. Sing holiday songs that are special to each family can become an annual tradition
5. Playing games can be a fun and bonding experience
6. Making holiday decorations that can be put up in the house or on the tree
7. Be extremely mindful of equity in giving gifts for children: believe me they notice
8. Have them join in gathering  toys and food to help families in need
Grandparents usually are especially good at story telling. of story telling.  Share what it was like at holiday time when you were young. Encourage each child to share a story of what they enjoyed most for holidays. You don't have to do things a certain way although it should be some combination of old traditions with new. Be particularly sensitive to anyone for whom this may be their first holiday together. Be patient. It takes time for the new blended situation to have the feel of one single family. Grandparents can be extremely helpful in the process, but they need to be mindful of the sensitivities of the situation.  With luck, it won't be all that long before rude Josh starts calling you 'Gramps.'
———————
Sunie Levin holds degrees in psychology and education.  She has lectured and held workshops around the country, appeared on national T.V. and radio. Her books on grand parenting, as well as Make New Friends Live Longer are available at amazon.com and http://www.makenewfriendslivelonger.com