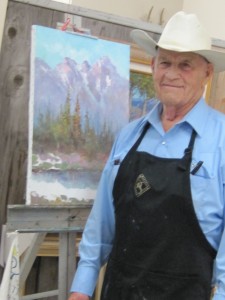 This grand daddy of Western Artists shows has grown and changed over the years and I've got to say this year seems to me the best yet.
Especially, in this age when we're just deluged with junk and everything seems made of plastic, the show warm, homey and yet the art is just wonderful.
Of course, it all starts with Fred Oldfield, and I found him at work on a palette knife painting.  At 93, Fred looks better than ever and still paints every day.  Fred was one of my very first friends when I came to the Puget Sound and he's just as excited about painting as he was forty years ago.
It was fun to find Julie Thompson hard at work on one of her feathers. If you want to see original and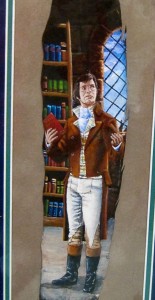 creative work, you've got to see Julie's feathers.  She actually paints whole, beautiful masterpieces on peacock and other feathers.   Her work has gone literally around the world.    By the way, notice the composition and think about the difficulty of composing a whole painting like this on a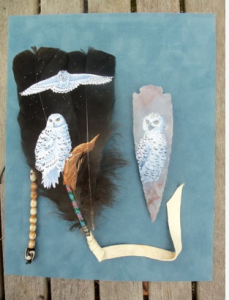 feather. Julie's career took  off when some of her feathers appeared on Facebook and  all of a sudden literally people from all around  the  world just had to have a feather.  Julie reported being "omg absolutely GOBSMACKED – my miniature piece, "Winter's Hunt", won Best of Show tonight in the 'other media' category!!"  Well deserved, Julie!!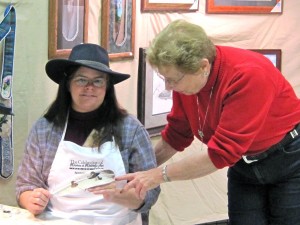 Here's another of Julie's feather creations below. A bear enchanted with salmon and like all fisherman, dreaming of the big ones. I had time to chat with Julie and if you can get out to the Celebration of Western and Wildlife Art Show and Sale in the Expo Hall at the Puyallup Fairgrounds on October 8 or 9, you'll be richly rewarded. I promise.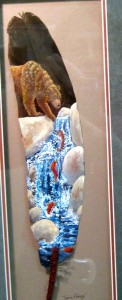 I just took a minute to chat with Peggi Selden Rowe and  enjoy her whimsical and beautiful  art, and then I had to get going so I missed the  silent auction and the live auction.  I'll try to get back tomorrow.