Three Ingredient Cooking.  What could be easier? This week on It's Never Too Late, Melissa Robinson shared her recipes for three ingredient cooking, and I'm sharing the recipes here.  I just tried the recipe for Hawaiian Crock Pot Chicken and it was very, very good. Also, if you're not in a crock pot mood,the recipe works very well if you just bake it in a regular oven at 350 degrees for a couple of hours. Really easy.  This recipe makes lots – plenty for a family, or if you're by yourself, freeze individual portions and dinner is taken care of any time you don't care to cook.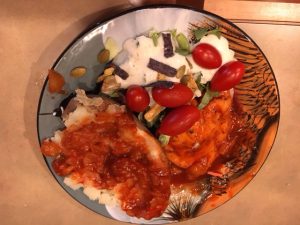 Melissa Robinson's Three Ingredient Cooking
3-ingredient Crock Pot Hawaiian Chicken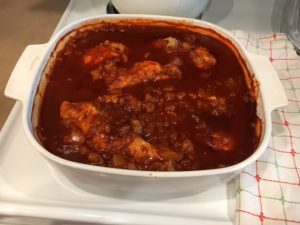 Ingredients:
* 4-6 boneless chicken breasts     * 1 can (8 oz.) crushed pineapple  * 1 Bottle (16 ounces) BBQ sauce
Instructions:
Lightly grease the bottom of your crock pot with cooking spray.
Place chicken breasts in the crock pot.
Combine both ingredients, mix, and pour over chicken breasts.
Cook on high heat for 3-4 hours or on low heat for 6-8 hours.
You can either scoop out whole chicken breasts and place on a plate
or you may shred chicken and scoop over rice. Either way, it is delicious.
Chocolate Cake Mix (For those individual servings)
Ingredients:
** 1 box of chocolate cake mix * 1 box of angel food cake ** If you do not like chocolate, you may substitute for another flavor that you like
Instructions:
Pour both boxes of cake box mixes into a large bowl and mix well. Place in any container that is airtight and will store for a few months.
For the mug cake instructions you will:
Add 3 tablespoons of premade cake mixture to a coffee mug.
Add 2 tablespoons water
1 teaspoon vanilla extract
You may add mini chocolate chips, nuts, or any additions that you might want in your mug cake.
Place in microwave for 1 minute and then allow to cool before eating right out of the mug. ENJOY!!
3-ingredient Meatloaf
Ingredients:
* 1.5-2 pounds of hamburger meat or turkey meat  * 1 box of Kraft Stove-top stuffing mix  * 1/2 cup of any milk
Instructions:
Preheat oven to 350 degrees Fahrenheit.
Add all 3 ingredients to a bowl and mix well.
Place the mixture into a baking dish and cover with a piece of foil.
Once covered, place into the oven for one hour or until cook thoroughly.
Enjoy this easy recipe!
Bio of Melissa Robinson
Well…to start off, who am I and why did I start doing this right? The who is easy for me, right? I am a mother of 3 young children, a wife, and I work full time at our local YMCA. I started working for the YMCA about 2 years ago. During this time, I have been learning about health and fitness, but not so much the nutritional aspect. So, I started to research it myself.
Like I mentioned before, I am a mother and I work full time so spending hours in the kitchen are not how I want to spend my evenings. And I refuse to feed my children the saturated, fattening, and unhealthy food that comes with eating out. So, I decided to make a change. I continue to look for healthy recipes to our already favorite dishes as well as new ones to try. Meal prepping is a big part in my family's life and everyone wants to help prepare the meals we will be eating throughout the week. This includes breakfast, lunch, dinner, and snacks.
I wanted my children to see me eat healthy and make those healthy decisions that will influence the way that they eat and the way that they will raise their families once they are old enough. I wanted my kiddos to see that I can be a working mother but also take time for health and exercise. This new journey is a wonderful change in our family and I am excited to have the support and amazing team that I have and I am definitely lucky to call them my family!