MY GRANDPA DUMOND
By Val Dumond (granddaughter)
© 2007
Note: Val read this charming memory at both sessions of The Family History Writing Workshop of DuPont's Hudson Bay Days.  It brought cheers and tears and was the highlight of the day.  What we learned is that we can't let these memories get away.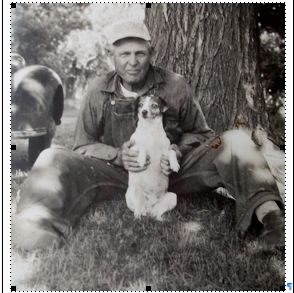 My grandpa was a gruff old softy who told wonderful stories about hunting bear and deer in the north woods of Wisconsin. He loved to tease us kids when we fell for his tales, grinning impishly around a mouthful of neglected teeth. We knew there was a bit of truth to the hunting stories because my grandma used bear grease to cure chest colds and we lapped up honey that Grandpa claimed to have nicked from the bears.
My grandpa walked slowly, but he walked
— every day to the downtown café where he met his cronies for coffee, through the woods to show us where the trillium and violets bloomed in spring, down the road to the chicken coops to gather eggs, and along the path that led to the orchard where we picked green apples in spring and ripe red ones in fall.
Grandpa had a pet terrier named Gyp, who he played with as much as he played with his grandkids. He taught Gyp to do all kinds of tricks, but mostly he just loved to hold his Gyppy, whose tail wiggled wildly whenever Grandpa patted his head.
What I remember most about Grandpa Dumond was the music. Each evening, when the mantle clock struck 8:30, he opened his fiddle case, drew up a kitchen chair, sat next to the warm stove (in winter), and played tunes he remembered from his childhood — the old Acadian (French Canadian) tunes that his father before him had played. He didn't need an audience. He usually played, eyes closed, oblivious to anything around him. Then, when the clock chimed 9 o'clock, he loosened the horsehair bow, placed the fiddle back in its case, closed it, and went to bed. Oh, how I loved those concerts! Oh, how I loved that man.
Val Dumond  •  Lakewood, WA  •  253-582-5453

We'd like to share your family memories. You can leave comments here, or mail them directly to ‎" target="_blank">