CELEBRATE TODAY! CLIMB EVERY MOUNTAIN DAY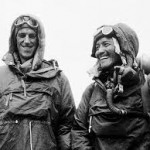 that the government of Nepal requires every single climber to bring 17 pounds of rubbish with them when they come back down the mountain.
 SO The way to celebrate is obvious.  Tackle a mountain of rubbish or distraction or annoyance in your life; maybe in your neighborhood, maybe at home.  You know where they are, but clean that mountain of trash up. You can do it just one little hill at a time.
Every mountain top is within reach if you just keep climbing.
                               — Catherine Rippenger Fenwick
Your body cannot heal without play. Your mind cannot heal without laughter. Your soul cannot heal without joy.
https://itsnevertoolate.com/2014/05/29/may-29-1953-hilla/ ‎