5 Causes for Celebration today – Pick one or mix and match.March 9 Chose from – Barbie Day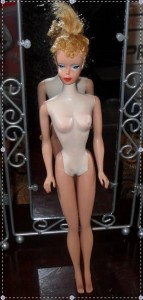 – You get a lot of teachable moments when you have Barbies and Kens having sleep overs.
March 9 is also Panic Day  – "If you can keep your head when all about you are losing theirs – there's a good chance you don't really understand the situation.  But here's a day you can enjoy a nice panic.  Settle into it. Call a radio station and tell them why you're panicking. Probably they'll raise money for you.
Luckily, March 9 is also Get Over It Day.  If you've been dragging chains about like Marley's Ghost this is the day to get rid of them.
March 9 combines Check Your Batteries Day and False Teeth Day.  These could reasonably be celebrated together and then, finally, my favorite – this is Barbie Day.
Oh, I know, I know what you're thinking but I'm telling you, Barbie's gotten a bad rap.  We had one of the first Barbies at our house. Well,  actually we didn't. We promised our daughter a Barbie for being brave when she had her tonsils out.  We ordered Barbie from the catalog and Sears was all out. So they sent us a doll who looked sort of like Barbie.  I think her name was Mitzi.  She was very pneumatic, and had even more eye shadow than Barbie.  I was pretty suspicious of how she spent her spare time, and all I can say is it's a good thing we didn't have Ken in those days.   She traveled all over the world with us. We had a lot of different Barbies and Kens of course. Barbie's really very wholesome. They seemed to mostly have a platonic relationship.
Tell me how you celebrate special days.  Read about all of these wonderful reasons to celebrate at www.daysoftheyear.com