HERE IT IS! THE DAY WE'VE ALL BEEN WAITING FOR BREATHLESSLY. Take a breath now.   Only four  days ago we celebrated Barbie Day and now today is KEN Day.  Ken came along two years after Barbie, and it's a funny thing that although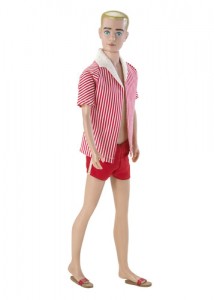 generations of outraged Moms have complained about Barbie's super frontal endowment giving their daughters a poor body image, this same group is strangely silent about the problem of poor Ken's body image.  The fact is that you frequently find little kids of both persuasions inching down Ken's shorts for just a peek to see what's beneath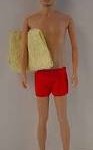 those red shorts. Nothing, that's what. And they could save themselves the trouble, there's no there THERE. Well, I had to look of course so I could take advantage of teachable moments with my children.
As soon as Ken came out on the market, Barbie's life became much more exciting and much more expensive.  There was the wedding wardrobe, for instance. Dave Barry once wrote that Barbie's trousseau was going to cost about the same thing a
his real daughter's college tuition and he hoped the doll pair could be persuaded to elope.  Personally, I never really trusted Ken.  He seems  so PLASTIC.
But we have  Batman Ken, Harley Davidson Ken,  and Wizard of Oz  Winkie Guard Ken with Winged Monkey.
At one time at a store in Lakewood, WA there were life size Barbie and Ken Mannequins who occupied the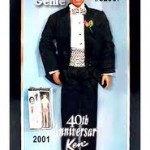 place of honor in front of the store.  And the whole town watched their relationship. Finally Barbie went off with someone else and Ken was kidnapped.  It was all very sad. If I can find the video we did for My Home Town, I'll put it up.
Be sure to go to http://www.daysoftheyear.com for the rest of today's special events.
This is what Mattel says about Ken:
Ken Doll Facts
The Ken Doll was introduced at the American International Toy Fair as Barbie doll's boyfriend on March 11, 1961. Ken doll was 12 inches tall, had "molded" plastic hair (blond and brunette) and came dressed in red bathing suit trunks with a yellow towel and sandals. Ken Dolls full name is Ken Carson (named after Ken Handler, son of inventor Ruth Handler).
Ken Doll's hair has been nine different colors over the years including auburn, black, blond, brown, brunette, light brown, red, two-tone and yellow. In 1973, Ken Doll's hair changed from plastic molded hair to a more "natural" style. 1973's Mod Hair Ken doll introduced his first ever rooted hair style. The doll came with either straight or curly hair as well as additional facial hair pieces including a mustache, beard and/or sideburns. The 1992, Totally Hair Ken sported a retro 70s look, it was a rooted hairstyle and came packaged with a tube of styling gel.
In 1982, Sunsational Malibu Ken doll was the first African American Ken doll introduced, and came sporting a rooted Afro hairstyle. The first African American Barbie had been introduced in 1980.
In 2004, during a Mattel publicity campaign, America's sweethearts call it quits. Ken and Barbie® announce they were breaking up. However, two years later it was announced that Ken was going to try and win Barbie back.