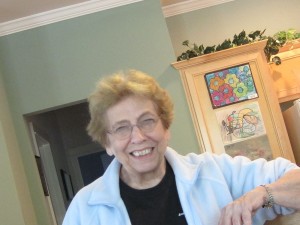 I'm spending a lot of time getting ready for the  Strides Against Breast Cancer 5K walk on October 2. 5K – That's oh, let's see about 3 miles.  I can do that.  I'm pleased and proud that my Grand daughter Shondra has organized her team.  The fact is, all of us have been touched by cancer, so I'm shamelessly  hitting my friends up to join in supporting us on the walk.  If you can't walk, you can still support us.  Come walk with us or support us with a donation. Here's the link to the team page – and thanks!
http://main.acsevents.org/site/TR?px=22813468&pg=personal&fr_id=36060 And as we always say, if for some reason the link doesn't work, please cut and paste, or let me know.
I always talk about waking up after my cancer surgery with tubes coming out of places I didn't know I had, and knowing that no matter what I did, I'd still be in that bed with those tubes.  I couldn't control what had happened. I could only control what I did about it.  This is what I'm doing right now.