This is one of those days with lots of causes for celebration – it's Museum Day, Visit Your Relatives Day, Neighbor Day, and incredibly No Dirty Dishes Day.
 This is a day to take your neighbors or your relatives all of your dirty dishes and suggest that they be turned into a museum exhibit.  I really don't see any advantage to No Dirty Dishes.
As for neighbors, living in a condo as I do, the neighbors can cause a lot of problems to deal with.  For instance, there are the
Night Noises!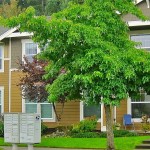 "What sort of noises?" the young man asked warily.
"Well, you know – noises," I said. "Night time noises."
His face took on a warm tomato hue as it dawned on him what I was talking about. I had never in my life expected to have a conversation like this.
I was very happy to see that this young soldier was safely home after more than a year overseas in Iraq but I had made up my mind that when he came back, I'd just have to speak to him before he took up his life in the condo above mine again.  "You see," I said choosing my words carefully, "my bedroom is right below yours and I can hear EVERYTHING."  "Everything?" he asked. I nodded mutely.
I thought I'd done my  homework  before downsizing to this perfect little condo.  I'd been sensible and systematic as I spent months drafting a list of all of the things my new home would have to have. I visited friends who had already made the big move until I found the floor plan I wanted. I checked out the Resident Owners Association to be sure I could live with the rules (no wind chimes, no garden) and then I set out to check off the elements that would be really important to me.  I had to see trees out my windows. not people, when I looked out my windows. Got it.  Had to have a large, roomy kitchen.  Got it. I wanted to feel as if I'd embarked on an adventure. Night sounds were not on the list.  I absolutely failed to figure for the fact that I might be sharing the lives of the people upstairs – and they'd be sharing mine.  I'm pretty sure theirs has been more interesting than mine.
It has been half a century since I lived in a house with upstairs neighbors. In our early Army life at the Aberdeen Proving Ground in Maryland, my husband and I shared a duplex with another young couple who came from Georgia. The wife's ancient  mother smoked her morning pipe while staring moodily into my kitchen window. I think I was sort of a reality show for her.  At the Presidio of San Francisco I was awakened to the sound of an electric razor's buzz and the morning coffee perking upstairs.  But I thought that was behind me. Here in Pleasantville, I am awakened at 5:30 by the sound of the dog's legs hitting the floor. I'd say they have about  34 dogs up there although the resident rules say there are really only two – but one is a Siberian Husky. When the folks upstairs use the bathroom, the sound  of flushing is like the rush of water through Columbia River Gorge.  Thank goodness  they all sound healthy. I will say it makes me feel  young again
The  original owners of the upstairs unit were two young officers bound for deployment. In those months before they left, they somehow seemed bent on producing their own version of From Here to Eternity. Night after night. After Night. After night. And I made up my mind, no matter how hard it might be, that when they came back, I'd have to speak up and that's what brought us to this uncomfortable spot.
"Were you horrified?" he asked. I sighed and gave the speech I've given several times to my own boys, "No, Son," I said "The act of love is beautiful. WITH the right person. and preferably after marriage" I concluded firmly, as I always do. "It's just that I don't care to share the experience."
"You've lived a very full life," he said respectfully. Then he brightened.   "Did it seem to you that it went on for a for a very long time?" he asked hopefully.  I nodded gravely. "A very long time " I said. "I do have a lot of  natural energy," he said happily, walking away with a bit of a swagger creeping into his step.  Welcome home, Soldier.
Ben came back a little later to explain that he had miraculously found that right person to share his life and would be settling down in a larger home.  He had, he said, rented the unit above mine to a very nice family with a two year old. An active two year old.  As anyone with a toddler will tell you, all the parents  – and downstairs dwellers -of that little person pray for is a good night's sleep.  From my home, I enjoy  the sound of busy, running feet all day long, but I'm happy to report that it's very, very peaceful at night. Sleep well, Little One. And quietly.
Copyright Dorothy Wilhelm 2012 and 2014 http://budurl.com/NightNoises