"Gateway to Heaven" Dedication at Lakewood Church Nov 22
Memorial honors beloved Pastor Fr. Lee Hightower
Have you ever wondered what it would be like to step through the Gateway to Heaven?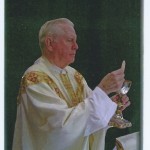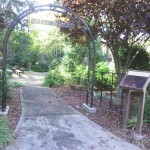 On November 22 you'll get your chance to do that at the dedication of the new Father Hightower Memorial Gateway in the lovely Meditation Park at St John Bosco Church in Lakewood.
This memorial honors SJB's greatly loved and charismatic pastor who died in 2013. It was built after at the inspiration of then Parish Vicar Father Paul Kenai who approached Parishioner Jim Senko around whose vision the 1.3 acre meditation park is built.
Father Hightower was already suffering from the illness and physical limitations that forced his retirement and was having difficulty entering the beloved garden where he, like many visitors, liked to stroll and pray among it's many shrines and dedicated by parish members to loved ones. Fr. Hightower frequently celebrated Mass in the Grotto of the park, and confided that it reminded him of the Grotto he'd loved at Carroll University in Montana where he taught in his earlier years in the priesthood. Fr. Kenai, who came to St John Bosco from his Native Africa, helped care for Fr. Hightower during those last years. Father Kenai suggested A Gateway to Heaven, and had it already planned to safety standards and to be wheelchair accessible. Father Hightower's approval was immediate, and the work began.
Although Father Hightower is no longer here, Jim Senko believes that he would have loved the new accessibility for the parish and the whole community.   In this strong military community, Father Hightower was revered and is still remembered for his years as an Army Chaplain, and his strong and loving decade as pastor at St John Bosco. The Meditation Park is open to the public for prayer and meditation seven days a week during daylight hours at no charge all year long.
The public is invited to the dedication on November 22 at 4:00 with a blessing in the Meditation Park by pastor, Fr. Peter Mactutis, followed by a Dedication Mass at 5:00 in the Church.
Contact Jim Senko 253-582-4024.
Your chance to be among the first to pass through the Gateway to Heaven at St John Bosco Church's lovely Meditation Park in Lakewood.
Blessing and Dedication beginning at 4:00 with procession to Gate. Followed by Mass at 5:00 in church. Bundle up warmly against inclement weather.
Church is at 10508 – 112th Street SW in Lakewood
Gateway to Heaven honors former pastor Fr. Lee Hightower