Also International Tug of War Day – This is a terrible combination.
But here's a little bit about the history of Tug O' War (tugs of war?) which you can read while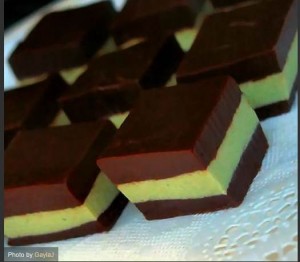 munching on your easy to make Chocolate Mint Fudge.  This is really good fudge, and if you make a double batch, you can freeze half and serve it next month on St. Patrick's Day.  Of course, you'll have eaten it all by then, but it's – well, easy to make.
Click Here for Chocolate Mint Chip Fudge
And now, while we're waiting for the fudge to get hard, let's look at this matter of Tug of War Day.  When I was in school, Field Day always included tug of war, and it was dreadful. Here's what Daysoftheyear.com has to say about it.
One of the simplest of sports, dating back to ownership disputes over food and clothing, the history disappears into legend with the Sun and Moon wrestling over light and darkness.
Most cultures have references to competitions of strength that involve pulling in opposite directions which can be found on stone carvings, in ancient texts and legends. Vikings used animal skins stretched across a fire pit, if any more incentive to pull were required. When tall ships were common on the seas a 'tug 'o' war' was a common way for sailors to show their prowess with heavy rigging.
Dropped from the Olympic Games in 1920, Tug of War still remains a World wide sport and many nations have their own governing bodies. Aside from formal competitions 'pulls' feature at many fairs and festivals. Spectators are encouraged to cheer on their favourite side. Join in Tug-of-War Day by organising your own event, or getting involved in another!
My idea is to hide all the ropes so they can't have their wretched tug of war. What do you think?