You can do it all in one day!!
Feb 20 is designated as Love Your Pet Day, easy peasy, Introduce a girl to engineering, and Bake a Cherry Pie.  Well, it's a big order, but we can do it. Starting with engineering: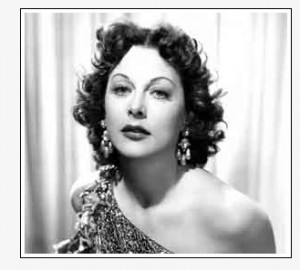 This glamorous movie star of the 40's invented a theory which serves as the basis for Blue Tooth and Wi-fi?  She was gorgeous. This link also introduces you to eight other unknown but important women engineers.
Now right along with girl engineers, today is Love Your Pet day.  We're all crazy about our pets.  I never met anyone who didn't have at least one cute pet story, so in honor of those dear creatures,  All Recipes which ordinarily offers gourmet recipes has recipes for animal treats today.  Here's a Four and one half start recipe for Doggie Cookies.  My dog once climbed up on the table to eat a chocolate pie. No ill effects thank goodness.  This recipe for Pet Cookies is good for dogs or cats, they say.
And  finally, it's Bake a Cherry Pie Day. This is sort of puzzling, except Feb 22  is George Washington's birthday, so it could have to do with that.  Though we know he didn't really cut down a cherry tree. Maybe he didn't care for cherries either.  I'm ashamed to say I just don't bake cherry pies, but I'll tell you a good substitute.  Vanilla ice cream with very hot cherry pie filling poured over it, and topped with real whipped cream and crushed nuts.  What they call on the Food Network shows, a deconstructed cherry pie.  See you for a reason to celebrate tomorrow.