On september 18, I'll be cooking at the Washington State Fair.  Yes, it used to be called the Puyallup Fair, but I've been called different things too – So meet me at the Fair – Great place, especially if you're using an assumed name.
Here are the recipes:
Baked Cinnamon Sugar Mini Doughnuts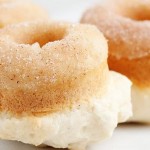 2 cups original Bisquick ™ mix
2 tablespoons sugar
1/8 teaspoon ground nutmeg
2/3 cup milk
1 egg
1 teaspoon vanilla
¼ cup sugar
1 teaspoon ground cinnamon
2 tablespoons butter, melted
Directions:
1. Heat oven to 425˚. Spray mini doughnut pan with cooking spray.
2. In medium bowl, stir together Bisquick, 2 T sugar, nutmeg, milk, egg and vanilla   with spoon until blended.   Spoon batter into pan, using about ½ tablespoon for each doughnut.
3. Bake 5 to 6 minutes or until toothpick inserted near center comes out clean. Remove doughnuts from pan to cooling rack, cool 5 minutes.
4. Meanwhile in small bowl mix ¼ cup of sugar and the cinnamon in paper bag.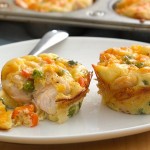 Dip doughnuts in melted butter, then shake in sugar/cinnamon mixture in bag.
Great stress relief. Serve warm.
Mini Bisquick Chicken Pot Pies
Fits in the palm of your hand, or your lunch box. Great for breakfast buffets. Freeze well.
Prep time 20 minutes, Total time 60 minutes,   12 serving
INGREDIENT
Chicken Mixture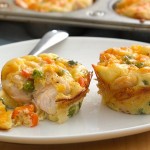 1 tablespoon vegetable oil
12 oz package grilled natural chicken strips, cut into cubes
or 1 lb boneless skinless chicken breasts, cut into bite size pieces
1 tablespoon dried minced onions
1 cup frozen peas and carrots (or green beans or broccoli bits)
1 can Cream of Chicken soup.
½ cup heavy cream, or milk, or chicken broth. Pick one.
½ teaspoon salt (I don't add salt to this dish)
¼ teaspoon ground thyme
1 cup shredded Cheddar Cheese (4 oz)
Baking Mixture
½ cup original Bisquick™mix
½ cup milk
2 eggs
DIRECTIONS
HEAT OVEN TO 375 ˚ Spray 12 muffin cups with cooking spray.
In your favorite 10 inch nonstick skillet, heat oil over medium-high heat. Cook chicken in oil 5 to 7 minutes, stirring occasionally, until chicken is no longer pink in center. (If chicken is already cooked just toss for a couple of minutes. Add onions and soup: heat till simmering. Add frozen vegetables and seasonings. Heat until hot, stirring occasionally thin with cream or chicken broth til it's warm through and thick, but not gooey. Cool 5 minutes. Stir in cheese.
In medium bowl, stir baking mixture ingredients with whisk or fork until blended. Spoon 1 scant tablespoon baking mixture into each muffin cup. Top with about ¼ cup chicken mixture. Spoon 1 tablespoon baking mixture onto chicken mixture in each cup. It won't look as if anything good can possibly come from it.
Bake 25 to 30 minutes or until toothpick inserted in center come out clean. Cool 5 minutes. With thin knife, loosen sides of pies from pan; remove from pan and place top sides up on cooling rack. Cool 10 minutes longer and serve.
Dorothy Wilhelm PO Box 881 DuPont, WA 98327. www.itsnevertoolate.com, ,