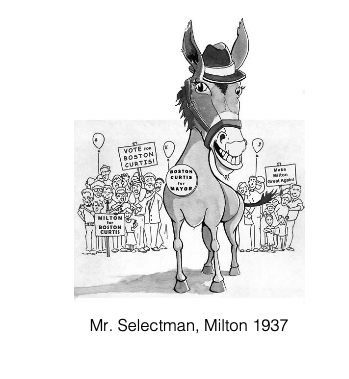 Did you hear the story about the jackass that ran for public office and won?
I'm not talking about this year's selection of candidates.
The election I'm talking about took place in the friendly town of Milton, WA in September of 1938. The candidate in question was a brown, long-eared mule with the very formal name of Boston Curtis.  According to the record, this unlikely animal, ran for Republican selectman.  He appeared as required in person with all of his paperwork filled out in advance and signed with the print of his hoof. Although he received only 51 votes, that was enough. Boston Curtis won.
The candidate was sponsored for the honor by the mayor of Milton, Kenneth Simmons, a Democrat who said he did it to prove a point. That point was that he believed people don't bother to find out enough about the candidates for whom they vote.
Simmons had made his point and his mark. The story of the Mule Hoax sailed around the world. Almost 50 papers carried the story in that pre-internet era, pointing out that Republicans had voted for this "cousin of the Democrat's donkey symbol." As Time magazine put it, "Mayor Kenneth Simmons chortled hugely. He had proved his point that voters 'have no idea whom they support.' "
The story was highlighted on the famous "Bob Ripley's Believe It Or Not" radio show and book, and is featured in the Museum of Hoaxes.
It certainly put Milton on the map.
Simmons was a high-spirited kid, called Catsup by his friends. He was an excellent swimmer and a great example of what a person can do if he's willing to push the limits.  His high school chum, Leonard Nelson, said Simmons had competed for the "Tarzan" movie role that went to Johnny Weissmuller. Nelson also said Simmons was once arrested as a kid for stealing a life-size mannequin and throwing it off a bridge, causing people to think it was a jumper. He kept a pet bear for awhile.
Simmons founded the town of Bonney Lake in what many considered a questionable deal land with "1000 acres from a Rodeo Man" according to one song. There's a monument in the Ken Simmons Park in Bonney Lake with an inscription that begins, "Whether you consider him a scoundrel or a hero…" That's not the usual tribute, either. But I talked with his daughter in law. Joan Simmons Branch, still lives in the area and she remembers nothing but kindness and fun from Simmons and his wife, Bertha.
Not your average guy.
There's a monument in the Ken Simmons Park in Bonney Lake with an inscription that begins "Whether you consider him a scoundrel or a hero … ." Not the usual tribute. But Simmons was a man who just didn't think people pay enough attention to the candidates they elect.
Joan Simmons Branch remembers that whatever else he did – or didn't – Ken Simmons held his family most important.  That's one thing we all have in common.
My grandson, at 18, now towers close to 6 feet, as grandsons will do.  He's a good man to stand next to on a sunny day. We try to keep in touch in these days of quarantine but I remember that the last time we were able to visit he and his family showed me nothing but kindness and fun.  His little brother gave up his room for me with such sunny good humor that I had been there several days before I even realized he had done it. Naturally, because my mom trained me right, I sent back a small thank you gift after I came home and because I wasn't paying close attention, I tucked in packages of Every Flavor jelly beans from Harry Potter. It seemed like a very grandmotherly thing to do. I got this message back from my son.
"We opened the package you sent last night. Thanks for thinking of us. The Every Flavor Beans were a hit. The Rotten Egg ones were a particular adventure."
I couldn't believe that's what I'd given my grandkids. Those beans also come in Ear Wax, Dirt, and Earthworm flavors, and those are the ones I can bring myself to mention. I was so embarrassed I went right out and bought some for myself. Sure enough. It was all true. I hadn't noticed. The boys loved them though.
There's a mural of history at Milton City Hall that includes the story of Boston Curtis, along with the "Believe It or Not" cartoon. I bought a limited license for that cartoon for my book, True Tales of Puget Sound which costs $200 for a single appearance in the book and I can't ever, ever show it anywhere else.  Artist Mark Ryan created the image seen here.
What we need in these trying times is a sense of humor and to pay careful attention to what's going on around us. Otherwise we might end up with something unexpected like this jelly bean labeled Peach-Barf. That's about right.
Together Again, a compilation of the last five years of Dorothy Wilhelm's columns will be available in the fall. Contact Dorothy at

/
Parts of this story appeared in the Tacoma News Tribune June 4, 2016.