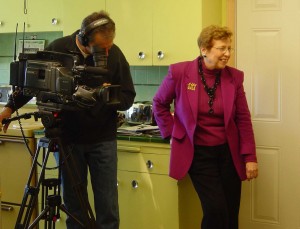 I didn't begin to develop signs of altitude sickness until we started the final upward climb to the summit.  Breathlessly, I reached my destination, gratefully paid three dollars for   a bottle of water, and threw myself down to rest.  "No, Mom,"  my daughter said, tugging at my arm. "These aren't our seats.  Ours are up one more level."
This  year we decided to treat ourselves to seats we could afford for the  theater season. It turns out that seats we can afford, are just barely inside the theater. They weren't bad seats exactly, though the whine from low flying aircraft was occasionally distracting, but I couldn't quite make out the actors' faces from that distance. The effect was sort of like watching animated popsicles move about the stage.  So after the orange popsicle sang "Bali Ha'i " and the lime popsicle sang "Some Enchanted Evening." I leaned away from the aromatic sock that protruded over the seat behind me and settled in to recall the last time I nearly saw South Pacific.
It was October 28,1952 when the touring company of South Pacific finally made it to
Spokane. The tour covered 118 cities;  21,000 people attended the nine performances. Very exciting. Martha Wright, the Duvall girl who replaced Mary Martin
in the dazzling Broadway show, flew  home to reprise her role in Portland, Spokane, and Seattle.  The cast were feted at the Press Club and the Jr. League Style Show.
We all dressed for the show as if it were a true Broadway event.  Women's clothes have never again been as flattering as they were in the Fifties.  I had a very arresting outfit; a formfitting red and white striped sweater with target like swirls in the front.  in those days, it was important for everything to come to a point.
No one ventured out without hat and gloves. I had at least six pairs of gloves, and  three pair even matched.  But this time, in the crowded theater, the lady in front of me, wore a pouffy little opera hat – you've seen it in Doris Day movies – and I spent the evening, hopping up and down trying to see around it.
After the Seattle performance last week, a critic gushed  that this revival of South Pacific  is even more meaningful today, because now "we understand what war does to people."  But in the fall of 1952 with World War II only seven years behind us, we were right in the middle of the Korean War, and we had a pretty good handle on what war meant. Instead, in those days, when it was unusual to have a friend
or even a classmate of another race, It was the bittersweet interracial love story that resonated from the stage, mesmerized us, and drew us in.   "Oh, that could never  happen," my mother laughed after the show. "It couldn't work out in real life" and there was no reason to contradict her.
The bittersweet story is no longer shocking, but this night  in the theater when Nelllie Forbush says, "because she's colored" there's a gasp – an  audible intake of breath from the audience.
The story unfolds, the singing popsicles are reunited. The play ends and the aromatic stocking is retracted from its spot near my left ear.  As we toiled our way down from the  top level, I was surprised at my daughter's reaction. She moved past the music and drama to focus on the character of the French planter who fell so deeply in love with Nellie the Nurse after knowing her just three weeks. "It's just wrong" she said of Emile DeBeque for leaving his motherless children behind while he goes to spy for the US.   "He'd stay with a woman he's known only three weeks, but not the children who have no one else. I can't forgive that,"  says this young woman who lost her father at  the  age of six.
Of course, we all know it's only theater, whether it's South Pacific or the Super Bowl. But sometimes in stepping behind the footlights, we can catch a glimpse of what's important in real life.   South Pacific is a magical show!! I hope I get to see it someday.
Dorothy Wilhelm is a professional speaker , humorist and columnist and the host of Never Too Late for Comcast On Demand   She  can be reached by e-mail at  on the web at www.itsnevertoolate.com and by email at " target="_blank">

Read Dorothy's Blog at www.sixtyplusdatebook.com