Garfield The Cat Day
According  to Days of the Year,  Garfield the Cat day is celebrated annually on June 19.
Garfield was famously created by cartoonist Jim Davis and first appeared in a cartoon strip on the 19th of June 1978.
Topical subjects focused on are: obsessive eating, love for lasagne and a distaste of Mondays with Garfield taking our place dealing with these agonizing subjects.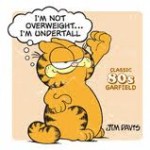 When celebrating Garfield the Cat day why not dress up as the cat himself? Organize a dress-up day at work where everybody has to come as a character from the well-known comic strip. You could donate money raised to a local charity and make it a real event!
You'd be in good company. A respected judge in Pierce County had a custom made chicken outfit to wear on festive occasions.
Now I don't suppose  we're really going to dress up in a cat suit.  But we can look for ways to lighten the load of daily hectic activities.  Start with some activity that promotes health and relaxation.  I pick Tai Chi.  Then look for ways to bring a little laughter into your life.  Try cutting out cartoons and writing new captions for them. It's particularly fun to put the cartoons in a plastic bag and take them in the shower with a marking pen.  When you get tired of writing new captions, you can draw mustaches on unusual parts of your body.   Yes you can.
"For in the end, laughter is the only real coping mechanism we can depend on — the true best medicine. And best of all? It's free and easy to make use of."    Jon Pompia
 "The human race has one really effective weapon, and that is laughter."     Mark Twain
https://itsnevertoolate.com/2014/06/20/celebrate-toda…ld-the-cat-day/